A Dangerous Man
Book review: A Dangerous Man, by Robert Crais
Better than average, but not Crais' best (August 12, 2019)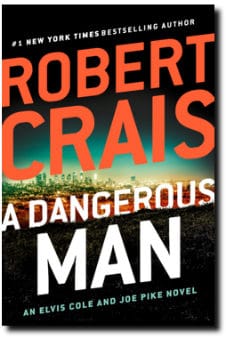 Although Elvis Cole does appear in this book, it's really about promoting the Joe Pike legend. There are a few more details about Pike and what he does when he's not working as Cole's business partner, so the depth of the legend isn't increased so much as given a good shine.
There are a couple of plot lapses for convenience, a couple of instances of foreshadowing that are not paid off later, and a silly misstatement about ammunition, but over all even a mediocre Robert Crais book is better than average, so it's still a great read.
I put it down for a couple of days after finishing it, and now I'm back to read it again (at the expense of the Mark van Name book I had been reading before A Dangerous Man hit the shelves).