The Used 911 Story
Book review: The Used 911 Story, 8th Edition, by Peter M. Zimmerman
Doesn't seem up-to-date (February 4, 2014)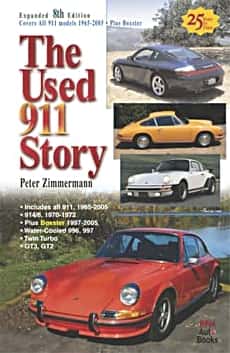 I have previous versions of this book, and found each to be fairly complete in terms of what to look for when purchasing a used 911. I used to be a Porsche/Audi mechanic, and I never felt there was much I would have added to what Pete had written.
This latest edition, though, seems pretty cursory on the newer models. If you're on a budget and looking for a newer 911, this book doesn't go much into the reliability, differences in the engine rebuild procedures with the water-cooled engines, etc. There are plenty of late-model air-cooled 911s out there with 200,000 miles on them. I've even seen early water-cooled 911s with 200,000 miles. This book seems not to have much to say about the wisdom of buying one of these high-mileage cars, what fails, what's good, or what to look for. In fact, the books seems to have been written by someone who's not really servicing Porsches any longer, so the detailed information is just not there.
Obviously, if you're looking at buying an early-70s 911, you'll have different expectations about the condition of the car, and this book continues to be a good guide there.
For the newer ones, though, you'll need to augment the information in this book with pre-purchase inspections by a knowledgeable and trustworthy Porsche mechanic.