Get Carter (2000)
Movie review: Get Carter (2000)
Underrated gem (June 7, 2020)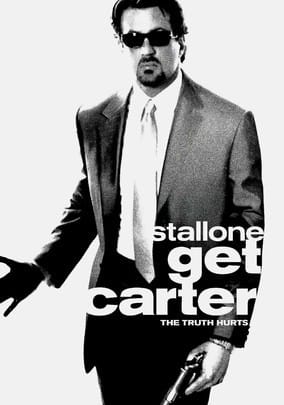 The 2000 version of Get Carter starring Sylvester Stallone is a near-masterpiece that has been overlooked and underrated by many.
According to Warner Bros.:
Sylvester Stallone stars as a vengeful mobster who scours the underworld to avenge the murder of his brother.

It's not his turf. But it is his war. Las Vegas muscle and glitz meets dot-com, triple-latte Seattle, as a Vegas mob enforcer prowls that Northwest city to smoke out his brother's killer.
As per usual, this blurb engages in a bit of hyperbole. For one thing, Stallone's character, the Carter of the title, already works in the underworld in Las Vegas but doesn't realize there is an underworld connection to the death of his brother (Richie, played by Michael Cook). The more he looks, the less likely it seems to be that there is a connection. Also, he doesn't go to wage war, he's just there for the funeral, and to find out more about how his estranged brother died. Finally, most of the scenes in Seattle are set far from the dot-com glitz, let alone triple-lattes.
Taken at face value, though, the studio precis seems to be portraying Get Carter as a more-or-less typical revenge movie, even going so far as to pose Stallone holding a gun for the movie poster / DVD cover, when there is far more than that on screen. Once you get past that, however, Get Carter is the "revenge' film that Liam Neeson has been trying unsuccessfully to make over and over for years.
They say a hero is an ordinary man facing extraordinary circumstances. Get Carter in many ways portrays an extraordinary man facing what seem to be ordinary circumstances. But even after not being in contact with his brother for five years, Carter suspects foul play. In trying to get the bottom of what happened, Carter is caught between those who don't know what happened but accept the official story, and those who know what happened but are facile and accomplished liars of the highest order.
Carter's very presence and persistance in his old hometown make the wrong people nervous, and when they react Carter knows he is onto something, although he has no idea what.
Ironically, if the bad guys had been able to hold it together for a couple of days, Carter would have run out of time. He is AWOL from his duties as a collector for a mob bookie (Les Fletcher, played by Garwin Sanford and voiced by Tom Sizemore) in Las Vegas, who has just found out that Carter has been sleeping with his girl (Audrey, played with ethereal calm by Gretchen Mol) behind his back.
In addition to building pressures at work and on the family side, Carter's greatest challenge in some ways is to try to don the role of being a steadfast member of the clan Carter, a challenge neither his co-worker nor family accepts nor comprehends. In this unfamiliar role, Carter has to call on inner strengths even he seems not to know he had as he responds to attacks and doubts with love and acceptance. As difficult as it can be for close family members to deal with intense personal issues, Carter as an outsider has it that much worse, but he perseveres.
The discovery of the layers of horrors that led to his brother's death nearly destroy Carter emotionally in his nascent role of provider-protector to the widow and daughter. The retribution he was expecting to dole out comes easy to Carter compared to what he has to do next: This is a situation he can't fix, and he has to call on his sordid history for cues on how to mitigate the pain of the unforgettable evil perpetrated on his new family.
Through it all, Stallone smolders as Carter. This may be one of his best roles ever, and considering how many differences there are between David McKenna's original screenplay and the final script, it would not surprise me a bit to learn that he contributed to the re-write. Whole sub-plots are gone and smaller characters further minimized to make room for Stallone and Cook, with great profit. Maybe that's why you hire Stallone for projects such as this: He is a box-office draw, he can bring tremendous verisimilitude to the part, and he can help make your screenplay better. Who knows?
While I'm on the subject, Rachael Leigh Cook is just breathtaking as Carter's niece Doreen. She can be more expressive with her eyes in one scene alone than other actors manage in entire careers. She makes the easy parts in Get Carter crackle with intensity, and the difficult parts become believable in her hands.
There are great performances, too, from Miranda Richardson (as the long-suffering widow Gloria Carter), from an intense John C. McGinley (as Carter's partner Con McCarty), from Rhona Mitra (in the inconsistently-odd role of Geraldine), and even from Mickey Rourke (who is far from my favorite actor, as all-around bad guy Cyrus Paice).
But the real nexus is between Carter and Doreen. Even with the vast gulf between them for reasons unspoken, we can tell they are going to connect: They are the only two at the gravesite who don't carry an umbrella; they are the only two who think there is more to be known about the facts surrounding Richie's death; and finally, Carter is the only one who can get Doreen to share her deepest secrets so she can begin the path to healing. Doreen's catharsis even helps Carter start taking steps to re-invent himself.
Given the set-up by Warner Bros. and the poster image of Carter with a gun, you would think that this is an action movie. It does have action, but in another twist on the genre both chase scenes seem too long, and the emotional scenes sometimes seem too short. When was the last time you heard that said about an action flick?
I get the impression that reviewers of Get Carter (2000) judge it as inferior to the 1971 original, in which Michael Caine played Carter. I saw the original many years ago, and to me it was just a movie. Get Carter (2000) seems far superior in every way. In this remake, Michael Caine's out-sized portrayal as Richie's former boss Cliff Brumby only belatedly becomes tolerable at the end of the movie, after viewers learn what has been going on beneath the surface in the Seattle scene. I bought a copy for $5.99 through Apple's TV.app.
With that said, I give Get Carter (2000) an 8 out of 10. Points off for extended chase scenes and some convenient jump cuts, but with full credit where credit is due.
Director: Stephen Kay
Writers: Ted Lewis, David McKenna